Dr. Michael Arata and Dr. J. Joseph Hewett are the founders of Synergy Health Concepts, and they continue to be intimately involved in providing hands-on patient care. Safety, symptom-relief effectiveness, and open-communication are the cornerstones of their overall patient-centric approach. Their individual expertise, experience, accreditations, and credentials have established them as highly regarded experts in the specialized field of Interventional Medicine—and in particular with the diagnosis and treatment of symptoms caused by autonomic dysfunction (dysautonomia), CCSVI and other venous-related conditions.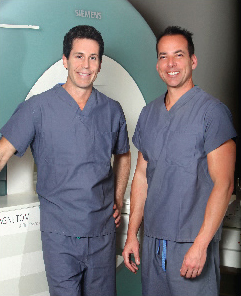 Notably, Drs. Arata and Hewett are both Board Certified Interventional Radiologists, yet each has a specific sub-focus. In combination, they offer a unique partnership as being the only program in North America comprised of a physician specializing in performance of the CCSVI and autonomic dysfunction procedures combined with a physician specializing in the interpretation of imaging studies (such as the MRV and Doppler) for patients with these medical conditions.
Dr. Hewett has specific expertise in CCSVI (and related conditions) diagnostic imaging. The goal of diagnostic imaging is to gather more information about the specifics of the patient's condition, in order to most clearly understand what specific conditions the patient has, and how they could be most effectively treated. He was the first radiologist trained in the interpretation of the Haacke MRVs, and is the most experienced radiologist in the world in this area having interpreted approximately 1500 Haacke MRVs.
Dr. Arata is a physician specializing in treating chronic venous obstruction and venous occlusive disease. His experience in this area spans for more than a decade, long before the discovery of CCSVI. He has performed thousands of central venograms and angioplasties for blocked veins for a variety of different diseases. Over the last two years alone, he has performed these types of procedures approximately 1000 times. This extensive experience means that situations that could be harmful during the course of treatment have likely already been encountered and thus are more likely to be avoided.
Synergy Health Concepts' physicians combine their advanced medical training at some of the world's most highly respected traditional medical schools along with their pioneering and research-oriented spirit to continue to identify new potential breakthroughs in the understanding, diagnosing, and treatment of human suffering.